Travel Advice
for visitors to Fiji and returning nationals




Fiji Experience


Georgina Worthington: a gap year adventure
I never imagined that after my months of preparation and the accompanying list of endless jobs to complete, I would be leaving the security and familiarity of England for a six month trip away, 3 months of which included voluntary work in Suva, Fiji. I of course had my preconceptions about what Fiji itself would be like, but on the advice of the organisation GAP who I was working for, I tried not to have any expectations of the placement itself…undoubtedly though, I was quietly excited about the prospect of golden beaches!
Myself and another volunteer would be teaching mainly English to primary school students, whilst living with a Fijian family and hopefully experiencing first hand, real Fijian customs. I had many apprehensions about this: whether I would be liked by the children and the family, whether I would be homesick so far away from home and in some ways most importantly, whether I would behave in an inappropriate way, given the stark difference in the Fijian way of life from my own.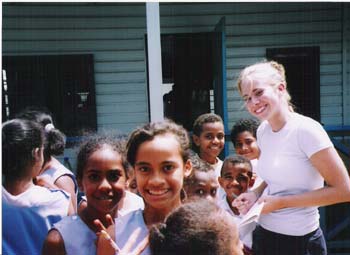 The first week was quite difficult. I felt as if I'd been immersed in a culture that I had little prior knowledge of and which differed considerably from my own; without the security of my family, I felt a little under the spotlight. All of these feelings however were self induced and no way a reflection of the way I was made to feel by the unbelievably welcoming Fijian people, notably the family I would be staying with for the next 3 months.I immediately fell in love with the country itself and the beautiful scenery that seemed quite surreal; driving along the Queen's Road for the first time on my journey from Nadi to Suva with the crystal waters one side, will be something I'll never forget.
Looking back now, the feelings that I had in that first week seem so vivid, maybe more so than anything that followed. I immediately felt part of the extended community of the family and school and found the vibrant atmosphere of Suva very exciting. I was homesick, but not to the extent where I wanted to leave. I also knew that I would settle quickly and wanted to make the most of this opportunity, both at the school and in the local community.
Given that I'd had no previous experience of teaching, the prospect of standing up in front of a class of 50 students, and attempting to feed their inquisitive minds, was a very daunting prospect. I can clearly remember the strange looks that myself and my partner Jennie received the first day we walked into the school. Even though the school was very multiracial, we did unfortunately stand out and in the following months, I had many children ask me if my hair was my own, and how I made my skin so white! Teaching started pretty much from day one, and although I did take a few English and Maths classes, the school was looking for an assistant to help teach physical education. As a result, I became a permanent fixture on the sports field and taught five lessons of sport a day, from the excited and sometimes uncontrollable class ones, all the way up to class seven. Equipment was limited and so much of my teaching was improvised but in some ways, this proved more successful. My main objective was to improve the children's fitness in encouraging them to take part in sports that maybe didn't focus so much on individual performance, as working as part of a team. I hoped that my slight childhood fear of failure at sport and the accompanying competition between pupils, would not feature in my lessons, so that each child could enjoy the lessons, regardless of their ability.
I couldn't have had more enjoyment or variety out of the teaching and have infinite fond memories of playing 'monster' with class one, fetching endless tennis balls from the vegetable patch with the class sevens and receiving daily hugs that will always stay with me. It was hard to achieve a balance between becoming the children's friend, and also showing some authority. I hope I did achieve this balance, but the one thing I noticed more than anything, was the children's discipline and good behaviour. Children treated you with so much respect that it was rarely necessary to use authority, even outside of school during extracurricular activities such as sports training at the stadium.
As well as the teaching in school, Jennie and myself with the help of some of the other teachers, took seventy children on a weekend camp to Tailevu. The aim was to allow the children to gain experience of a more traditional way of life and at the same time, become a little more independent. It proved one the highlights of my time in Fiji as I shared some memorable experiences of falling over in mud, being soaked in the rain and bathing in the river with children and teachers alike.
It is impossible to sum up my experiences from the school as so much happened in a such a short space of time that the pace of my life during the three months, induced so many different feelings. The children themselves were extremely talented: the fact that they can speak at least two languages fluently puts me to shame. But they were more than that. They were perpetually cheerful, always polite and did in the end, become my friends.
Even though my reason for travelling to Fiji, was to undertake the work at the school, the fact that I was living with a Fijian family, meant that there was another side to my experience: Fiji itself. None of the reading I had done beforehand could have prepared me for the culture shock on arriving in Fiji: the famous yagona ceremony, eating meals with my hands and sitting on mats whilst trying to find a comfortable position so as not to untie my sulu…I wondered if I would ever master any of these customs! I suppose though the family had similarly to adjust to my own, differing ways and so it was such a relief to me that the family were so patient and accommodating. But in the end, after a couple of embarrassing moments of losing my sulu in the middle of the municipal market, I became very contented and felt quite at home. In Suva, I joined a Fijian choir and was amazed by the power of the voices as I warbled along at the side. Through this, and the local church, I made so many new friends and found very touching the Fijian way of inviting me round for meals, or just assuming I was part of their household whenever I visited. I don't think I'm used to this level of friendliness particularly towards people you don't know, and this is one of Fiji's best qualities: the people.
I do hope to return one day, because even after two months of being back in England, I miss the family and all my friends in Suva very much. It is so different to live in a place rather than just visit it as a tourist, as I now feel Fiji is a part of me unlike any other place I've visited. During the three months, I also visited the islands of Taveuni, Ovalau, and Waya and found the diversity of scenery so interesting: the waterfalls of Bouma Heritage Park, the colonial atmosphere of Levuka and the stunning beaches of Waya are all highlights of these short trips.
Fiji is a unique country both for its people and scenery, but I feel as if I experienced something extra during my short stay. I obviously have the memories of the school and the family, and along with the beautiful places I visited and the immeasurably welcoming people and the friends I made there, I have so many fond memories of a place I will no doubt return to.



Think Pacific: www.thinkpacific.com